National Service Scheme (NSS)
National Service Scheme (NSS) was launched by the Union Education Minister Dr. V.K.R.V. Rao during the Mahatma
Gandhi's Centenary Year 24th September, 1969, involving student volunteers in different universities with primary focus
on the development of personality of students through community service.
NSS Unit P.D. Hinduja College of Nursing Established in 2008 headed by President Prof. Jaya Kuruvilla
co-ordinated by Programme officer Mrs. Siman Xavier with the strength of 30 volunteers. At present,
NSS Volunteer strength is 60
The objectives of N.S.S are :
Understand the community in which they work.
Understand themselves in relation to their community.
Identify the needs and problems of the community and involve them in problem solving process.
Develop among themselves a sense of social and civic responsibility.
Acquire leadership qualities and democratic attitude.
Gain skills in mobilizing community participation.
Develop capacity to meet emergencies and natural disasters.
Classification of Activities
Activities conducted are of mainly two types
Campus Work
Institutional work
Rural Project
Urban Projects
National Days Celebrations
National Programmes
Tree Plantation & maintenance of village streets, so as to keep the environment clean.
Health, Family Welfare and Nutrition Programme
Programmes aimed at creating an awareness for improvement of the status of women
Social Service Programmes
Education and Recreations
Awards
Every year student gets additional 10 marks in final year after completion of 240 hours in two consecutive years and 7 days of Special camp.
Every year college send proposal for Indira Gandhi NSS Award: Best NSS Unit, Best NSS Programme officer and Best NSS Volunteer
Ms. Mekha Ann Shaji not only received "Best NSS volunteer award" in Maharashtra University of Health Sciences in the year 2015-16 but also received the same at the state level.
NSS Committee members
NSS President
NSS Programme Officer
NSS Asst. Programme Officers
Asso. Prof. Siman Xavier, Ms. Pranali Sawant
NSS Leaders
Final Year Basic BSc Nursing
Ms. Poomthraserry Janet Joseph
Ms. Rency Mathew
Third Year Basic BSc Nursing
Ms. Sonawane Neha Shantilal
Ms. Dincy George
Second Year Basic BSc Nursing
Ms. Basutkar Shraddha Vijay
Ms. Roselyn Varghese
NSS Report 2020-21
NSS Annual Report year 2019-20:
Name of the College: - P.D. Hinduja Hospital, College of Nursing
Strength of Volunteers
Allotted strength – 60
Enrolled strength – 60 (Female)
Programme Officer
Name: Ms. Seema Samudre. DOA: 1/8/2016
Training Status: Trained – (02/09/2013 – 08/09/2013)
Name of adopted Village / Slum
Parol – Dist. Thane
Uttan – Dist. Thane
Dattatekadi - Jogeshwari
Special Camp
Dates of special camp – 08/12/2019-14/12/2019
No. of persons attending special camp – 30 (females)
No. of teachers attending special camp – 03
Other Activities:
Under five children camp – November 2019
Area Covered – Uttan Bhyanadar
No. of beneficiaries – 30 Balwadi childrens
Geriatric Camp: January 2019
Area Covered : Uttan Community
No. of beneficiaries – Approximately 60 geriatric community people
Adolescent Health camp: February 2020
Area Covered : Uttan Bhyander
No. of beneficiaries –80 Adolescent Girls & Boys
Population Education
World Cancer Day celebration 05/02/2019, Street play on Warning signs, Preventative measures of cancer, at Uttan community and health post.
World HIV/AIDS Day: sensitizing session on HIV/AIDS its prevention and management for Housekeeping staff of P. D. Hinduja college of Nursing.
International Women's Day Celebration based on theme, "I am generation equality", to sensitize the women on gender equality, and to empower women through education session at Good Shepherd Convent, NGO Versova.
World Breastfeeding Week Celebration: NSS Volunteers participated in the breastfeeding workshop. NSS volunteers sensitized about the importance of breastfeeding and recent trends and technological innovation in breastfeeding.
Street Play : Prevention & Management of HIV/AIDS – December 2019
Area Covered – Uttan community
Exhibition: Balanced Diet – December 2019
Area Covered: Uttan community
Rally: Women Empowerment - December 2019
Other Programmes
Independence day – 15th August 2019
International Yoga Day 21st June 2019
Republic day- 26th January 2020
Gandhi Jayanti celebration: 2nd October 2019, NSS Volunteers conducted flash mob on Say No to Plastic at Juhu Beach.
WALL MURAL PAINTING: NSS volunteers used their artistic skills in capturing the community members attention towards saving the environment and reducing pollution, prohibiting use of plastics and encouraging girl child's education.
Cleanliness drive, Vidhayak Sansad Parol
NSS Orientation: was organized for 1st year Basic BSc Nursing Students. NSS Programme Officer briefed the students about NSS, its objectives, mission and responsibilities of NSS volunteers.
Special Camp Report (2019-20)
Placement: Tilher village, Vidhayak Sansad, Parol, Dist. Thane.
Period: 8th December- 14th December 2019
The NSS Team of college of Nursing conducted 7 days NSS Special camp in adopted village Tilher, Vidhayak Sansad, Parol, Dist. Thane.
A formal inauguration was carried by NSS Team to orient all 30 NSS Volunteers to the NSS special camp programme. NSS volunteers introduced to the objectives and activities of this camp that is personality development and social service.
Following activities conducted by NSS Volunteers during this special camp:
Yoga & meditation:
For physical development, NSS volunteers had yoga and meditation session every day early morning for 30 Minutes. ROM exercise, body stretching exercise, yoga postures and 10 minutes meditation were included in this session.
Haldi Kumkum programme:
NSS Volunteers organized Haldi Kumkum program for the women at Parol Village. As an incentive the NSS Volunteers provided the women with a comb and til laddus. The volunteers also conducted an interactive session on Iron rich Diet for the women.
Exhibition on Balanced Diet:
A balanced diet is a diet that contains differing kinds of foods in certain quantities and proportions so that the requirement for calories, proteins, minerals, vitamins and alternative nutrients is adequate. The people who live in rural community are not about balanced diet, and the importance of its inclusion in daily diet Hence the NSS volunteers also conducted an exhibition on balanced diet and sample menu plan was also explained to the villagers.
Rally on Women empowerment:
Women's empowerment is all about equipping and allowing women to make life-determining decisions through the different problems in society. To strengthen this aspects of women's development the NSS volunteer conducted the Rally on Women's Empowerment.
Street play on Prevention of HIV & AIDS:
HIV (human immunodeficiency virus) is a virus that attacks cells that help the body fight infection, making a person more vulnerable to other infections and diseases. It is spread by contact with certain bodily fluids of a person with HIV, most commonly during unprotected sex (sex without a condom or HIV medicine to prevent or treat HIV), or through sharing injection drug equipment. To sensitize the community members the NSS volunteers performed a street play depicting the various ways of contracting the infection including the prevention and treatment aspects of it were covered.
Wall Mural Painting:
As a part of Community Awareness Program the NSS volunteers used their artistic skills in capturing the community members attention towards saving the environment and reducing pollution, prohibiting use of plastics and encouraging girl child's education through Wall Mural Painting.
Educational visit:
To understand rural health care delivery system and rural local self -government following visit were organized for the NSS volunteers:
Gram Panchayat
Primary Health Centre, Parol
Sub Centre, Tilher
Rural Hospital, Virar
Water Purification Plant
Biogas Plant
Vermiculture compost
Solar energy Plant
Thus, the camp ended with sense of satisfaction, developed attitude towards sense of responsibility and scope of betterment.
Photos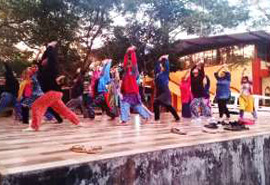 Yoga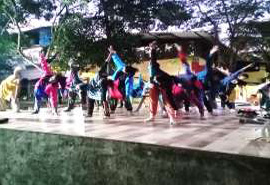 Yoga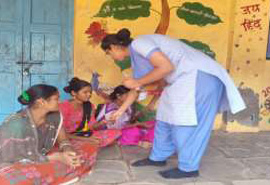 Haldi Kumkum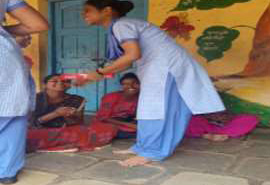 Haldi Kumkum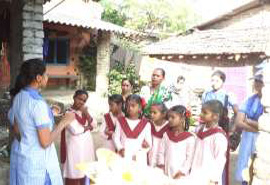 Exhibition on Balanced Diet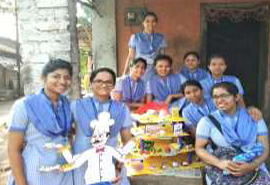 Exhibition on Balanced Diet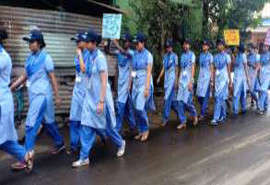 Rally on Women Empowerment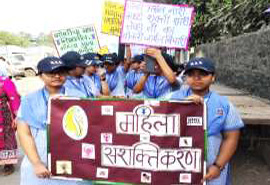 Rally on Women Empowerment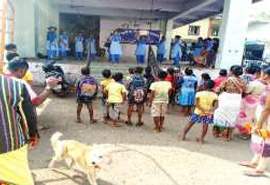 Street Play on HIV/AIDS: its prevention and its management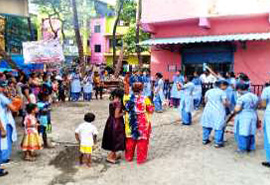 Street Play on HIV/AIDS: its prevention and its management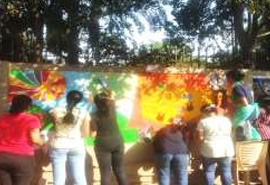 Wall Murals Painting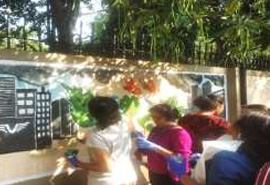 Wall Murals Painting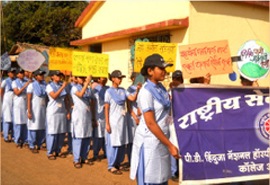 NSS Volunteers conducting rally
NSS volunteers performing street play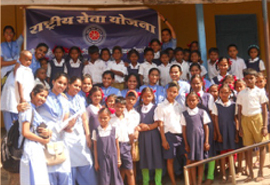 NSS Volunteers conducting School health Camp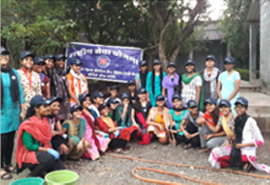 NSS Volunteers in Cleanliness Drive