Student Support
The College has established Integrative Support for students which comprises of dedicated administrative staff, financial officer and Principal as a chairperson.
College has an in-house counselling cell with qualified counsellors and 24*7 helpline. Apart from counselling sessions, the cell organizes various activities such as handwriting analysis, ice breaker sessions, screening for anxiety, stress to identify psychosocial issues among students. This facilitates proactive management and close monitoring of vulnerable students.
---
Health care Facilities at College of Nursing
College has provision for diet counselling by qualified in-house and external dieticians. Early identification and management of health problems are done through annual health check-ups and free medical treatment is given in the parent hospital.
Health Clinic
Health Clinic renders services for all inbound students & faculty. Services include first aid treatment for minor ailments based on standard protocols and regular health checkup. Students and faculty are referred to P.D.Hinduja Hospital in case of ailments that need expert advice or admission. Health records are maintained and updated on individual basis. Support is extended to students those who need treatment or admission.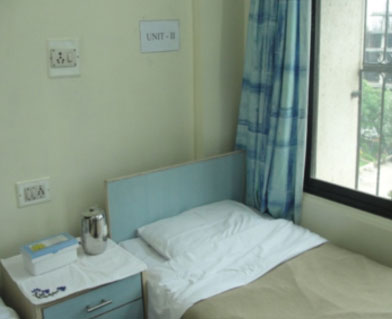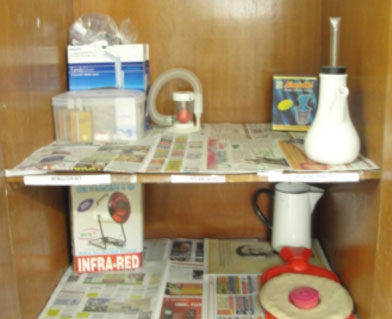 ---
Help desk for financial support
The institution has a Help Desk with dedicated office staff for financial support. Functions of desk includes identifying and informing the students about various governmental and non-governmental financial support schemes, and facilitating procedure for availing financial grant through logistic support.
Almost 50% of students are covered by scholarships provided by various governmental & non-governmental agencies.
---
Placement cell organizes campus interview for PG students and schedules examination and interviews for in-house recruitment of UG students. They also conduct mock interviews, organize sessions on resume writing, and taming challenges at "New Work Place" for UG and PG students.
---
The College has established Integrative Support for Overseas students (ISOS) Cell which comprises of dedicated administrative staff, financial officer and Principal as a chairperson.
Following are support services provided to international students through Overseas Student Support (OSS) cell.
ISOS cell coordinates with international students for admission, immigration needs and eligibility requirements.
It also assists with travel requirements
---
College has class specific Soft Skill Training Activities. Professional Enculturation Program provides the first year students with support guides their transaction & help them to adapt well to professional Mileu.
Voyage from Bench to Bedside Nurse. Theme based soft skill workshop for final year B.Sc & M.Sc Nursing students is held annually.
Blended module on Emotional Intelligence, Session like Eight to be Great , Assertiveness are some of our unique Soft Skill Development activities undertaken by College.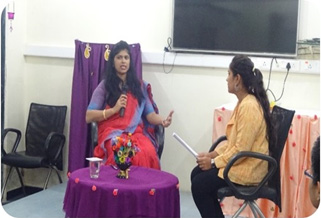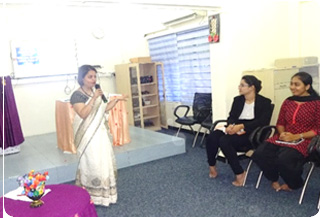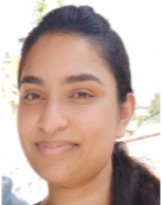 Name: Ms. Rosemol Varghese
Batch: 2010-2014, Basic B.Sc. Nursing
Country: United States of America
"I joined as an NRI student. I gave my 10th - 12th transcript to the college, the marks were hard to convert to a percentage because in the US it's a grade system. So we used an additional grade to percentage conversion to make it easier to understand. In US schools students don't necessarily have to take all 3 sciences (Biology, Chemistry, Physics) to pass high school, but it is necessary for admission to nursing colleges. I had taken all 3 sciences so I had no issues. The transcript and conversion scale was forwarded from college to the university in order to get the equivalency certificate. Jaya madam worked hard to make that happen because it was a rare case. I was given preference for single room accommodation with the fee structure being the same as Indian students.
Language training classes included Hindi and Marathi. I had great problem with Marathi to deliver health talks but with my teachers and colleagues support it became easier.
Escort facility was made available to and fro from college and airport. Parents could contact during working as well as non working hours due to different time line.
---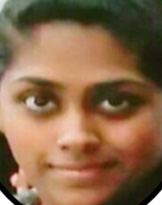 Name: Ashwathy Ann Abraham
Batch: 2011-2015, Basic B.Sc. Nursing
Country: Doha, Qatar
"Admission as an NRI was fast and easier for me. College was helpful during my VISA requirements for e.g. leave. Fee structure for me was similar to other batch mates. Single room accommodation was good. Received excellent training and support to communicate in local languages. Allowed telephonic communication for parents as per convenience.
Good support received from principal and faculty to achieve academic excellence.
---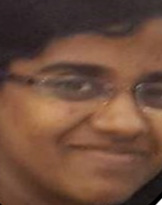 Name:Archana Ann Abraham
Batch: 2012-2016, Basic B.Sc. Nursing
Country: Doha, Qatar
"My admission as an NRI was easier due to the immense and timely help received from college officials. Also during my journey in the four years my VISA requirements were also given due attention.
My college had given me a good platform. It all contributed for my professional growth through rich clinical experience and continuing education.
My teachers helped me in a great way in theoretical and practical aspects of nursing. Counselling sessions & regular assessments all helped me identify my inner capabilities and always kept me motivated to give my best. I am proud to be called as a Hindujaite."
---
Name: Janaki Pradhan

Batch: 2015-2017, M.Sc. Nursing

Country: Nepal

"Being a part of Hinduja is one of the best thing that happened with me. When I had made up my mind that I want to pursue higher education in nursing in a foreign nation, I did not had any idea regarding how I was going to do it. But, I am thankful to the friendly and helpful staffs of Hinduja, who not only helped me via their emails and calls, prior to admission but also guided me throughout the process of admission. From excellent academic and clinical exposures to availability of physical facilities like accommodation, Hinduja never failed to make me feel blessed for making the correct choice. At Hinduja, the teaching and non-teaching faculty are always ready to help a student achieve their best. Hinduja not only helped me in enhancing my clinical or academic skill, but also taught me the importance of values, patience, hard work and determination. Opportunities don't happen, you create them, and Hinduja leaves no stone unturned to create such golden opportunities for us students."