The Innovation-Cum-Incubation Centre is instrumental in drawing up the innovation strategy power and in creating roadmaps/action plans for the college. The following is a proposed list of activities that the Centre is envisaged to undertake:
Technology transfer.
Entrepreneurship promotion.
Igniting Youth Innovation.
Collaboration with industry, other Universities, regional and national stakeholders
Innovation in curriculum
(Note: put these 5 as link to their page which can also be accessed from the front link of the innovation)
Goal
By doing so and by bridging demand-supply gaps, the IC will increase knowledge exploitation while giving birth to:
Innovations from R&D
Innovations in business models along with products, services and delivery
Inclusive solutions for local, regional, national and global needs
Innovations in curriculum
Transfer of Technology (TOT)
Technology transfer, also called transfer of technology (TOT), is the process of transferring (disseminating) technology from the places and in-groups of its origination to wider distribution among more people and places.
Activities
BUG BATTLE APP
Ms. Janet 2nd year B.Sc student has developed an app "Bug Battle" for clinical preparedness related to Biomedical Waste Management.
HEART CARE APP
Heart care app is a user friendly mobile application developed by Msc second year student, Ms. Shilpa to help the caregivers of children transitional period after cardiac surgery.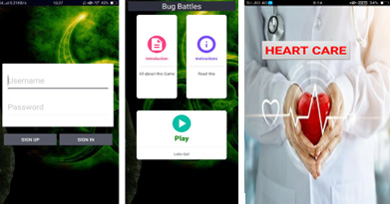 Entrepreneurship Promotion
IPR-cum-Incubation Centre of P.D. Hinduja College of Nursing is implementing the following projects in different domain areas.
Lactation Centre
Tranquility Corner

Domain Area: Health-Targeted Delivery
LACTATION CLINIC "Latch & Feed"

Services Offered:

Comprehensive Breast Care Services
Breast Milk Pumping Stations
Counselling & Education to Mothers
Safe Storage of Breast Milk under Suitable Temperature

Domain Area: Complementary Alternate medicine

In marching towards the excellence, one more milestone established at our P.D.Hinduja College of Nursing i.e. "Tranquility Corner". The pioneer is our dear respected Principal Madam Prof. Dr. Jaya Kuruvilla who has inculcated the spirit of Complementary alternative medicine practice in us, motivated us to see the comprehensive approach of treatment of healing.


Igniting Youth Innovation
The Hinduja college of nursing provides platform to students to showcase their innovations and talents through various competitions and programs.
| Concept Map Designing | Mind Booster | Nurse scientist Galore |
| --- | --- | --- |
| | | |
| Board Game | Google Doodle |
| --- | --- |
| | |
Collaboration with Industry
Collaboration with industry, other Universities, regional and national stakeholders
Training sessions planned and held for staff nurses in collaboration with Karuna Hospital
Updates of TB/HIV in collaboration with Bel Air Hospital
Commencement of Accreditation module through Industry collaboration
Online Child abuse module
Preceptor ship
Outcome focused module
Skill enhancement program
Smart study program
Voyage program
2
Intellectual Property Rights IPR
Intellectual Property Rights introduction
Intellectual property plays an important role in providing a competitive edge to an organization. Institution understands that intangible assets of organization in terms of inventions and brands creation, products are more valuable than its physical assets.
Armed with a vision to become a National Leader among academic health centers of nursing, P.D. Hinduja College of Nursing understand the need to foray untraded paths in nursing profession such as brand creation, development & refinement of product/ standardized tests as well as process pathways formulation.
Purpose:
Provide conducive environment for development of IP
Enable the institute to make beneficial use of such developed IP for maximum possible benefits of the creator, the institute & national health sector.
Members Of The Intellectual Property Rights Cell
Chairperson
Secretary
In house Faculty
Prof. Shubhangi Pangam
Ms. Dakshata Nijai
Alumni Representative
Ms. Prajakta Hindlekar ( Nursing director, Breach candy Hospital)
Industry Representative
Ms. Blessy Solomon (Manager –Clinical Support Midmark (India) Private Limited
Student Representative (UG & PG)
Ms. Neha Sonawane (UG Student)
Ms. Pratiksha (PG Student)
Celebration of intellectual Property Day
Designing & implementation of IP module for PG students.
Organization of Nurse Scientists Galore
Conduct of Methodological research
Filing of patents, copyrights
Collaboration with industry for start up initiatives
Organization of workshop
Intellectual Property Rights Module
The module will address how today's nurses can use and share information and enhance their educational offerings without infringing upon copyright protections.
Duration
Eligibility
B.Sc & M.sc Nursing students
Certification
E-Certificate will be given to those who register and write the exam and score greater than or equal to 40% final score.