The Founder
Parmanand Deepchand Hinduja, Founder, Hinduja Group and Hinduja Foundation believed from his early childhood that health and education were the fundamental rights of each individual.
He would pay particular attention to the poor and the needy.
His method of screening patients to qualify for free treatment was quite simple.
This belief led him to establish the "National Health and Education Society" in 1954. He would visit the hospital devotedly every day to meet the patients, enquire about their needs and ensure that they were comfortable and received adequate treatment.
He would make the patients declare before the deities of his or her Guru and the Almighty that they did not have the means to pay the bills, and provide them with free medical care. P. D. Hinduja Hospital continues to fulfil his dream of providing world-class medical care to all sections of society.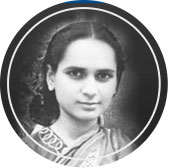 The Inspiration at college
When the God creates a baby girl, there is a joyous celebration;
the creator marvels at his creation before infusing the golden breath of Life.

Mrs. Lalita Girdhar Hinduja, was the visionary behind Nursing at Hinduja and more specifically the School of Nursing. Today, P.D. Hinduja College of Nursing stands tall as a testimony to the fulfilment of Madam Lalitaji's dream. At this juncture, we fondly remember her for wholehearted involvement & generous help extended towards progress of the school. With her blessings, the College is not only just thriving but growing by leaps & bounds.